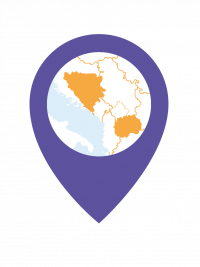 Residential Energy Efficiency Financing in the Western Balkans
Context of the project
Residential energy efficiency for more sustainability
The beneficiary countries are Bosnia and Herzegovina, as well as North Macedonia.
The promoter is Habitat for Humanity International (HfHI), a leading international housing NGO with headquarters in USA (Atlanta, Georgia). The promoter of the project is Habitat for Humanity Europe, Middle East and Africa (HfHI EMEA) based in Bratislava, Slovakia. HfHI is a global, non-profit housing organisation with over 40 years of experience with a mission to empower people in the world's poorest communities to overcome the lack of affordable housing. HfHI has been involved in the area of residential energy efficiency in the Balkans and the Caucasus since 2010.
The Urban Projects Finance Initiative – UPFI – will provide technical assistance to HfHI to set up a bankable investment proposition for the financing of residential energy efficiency (Res-EE) in the Western Balkans, for which Bosnia and Herzegovina, as well as North Macedonia will be the starting "pilot" countries. Residential housing has a potential for massive energy savings in the Western Balkans promoting more secure energy security and sustainable energy use.
The UPFI project
The concrete objectives of the UPFI's TA are:
To make a targeted analysis of the Res-EE retrofitting market in Bosnia and Herzegovina, and North Macedonia;
To evaluate relevant pilot projects and develop a feasible and efficient financing model for the targeted project scale of total 30,000 to 50,000 households served in both countries;
The results of the feasibility analysis will directly support agreement and implementation of the loan project to the benefit of sustainable local development and livelihood of beneficiary households.
الموقع قيد الانشاء و سيكون موجود في العنوان التالي قريبا:
upfi-med.eib.org/ar